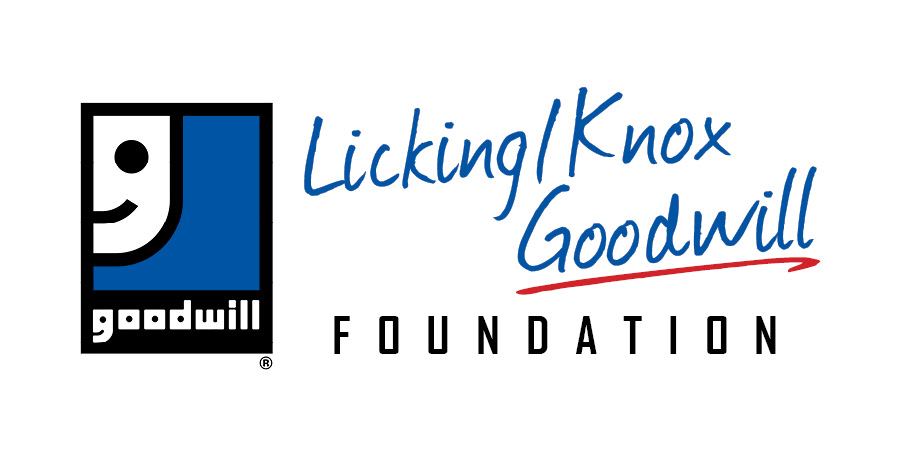 Support to Employees, Participants, and our Local Community
College/Trade School Scholarship Application
The Licking/Knox Goodwill Industries, Inc. Foundation was established to support and enhance the organization's mission by providing resources to support our employees, clients, and the local community.
In 2013, President and CEO Timothy J. Young conceived the idea for the Licking/Knox Goodwill Industries, Inc. Foundation. With Board approval, the Foundation was formed in 2014 to provide higher educational opportunities and will eventually provide transportation and housing assistance for people with disabilities and other barriers to employment.
The foundation met its Preservation Balance in one short year and was able to begin accepting educational scholarship applications shortly after. Since early 2015, the foundation has granted 48 educational scholarships!
The Foundation will accept online applications:
June 28 – September 26, 2018
. 
Scholarships
Scholarships
Licking/Knox Goodwill Industries, Inc. (Goodwill), through its Foundation, offers scholarships for post secondary education: trade schools, professional certification, and Associate, Bachelors, Masters, and PHD Programs.  These scholarships are available for high school seniors, current college students, and adult students.
In addition, Goodwill also offers scholarships for high school students attending a trade school or career centers in lieu of a traditional high school.
Scholarships are awarded at the discretion of the Licking/Knox Goodwill Industries, Inc. Foundation, and the Board of Trustees for Licking/Knox Goodwill Industries, Inc.
Scholarships are awarded without regard to race, color, creed, religion, sexual orientation, gender, disability, or national origin.
Goodwill scholarships may be used at any accredited educational institution within the United States. A scholarship from Licking/Knox Goodwill will not cover 100% of the cost of your program.
Eligibility
Eligibility
College / Trade School Education Scholarship
Applicants must meet one of the following criteria:
Current Goodwill Employee
Relative of a Current Goodwill Employee
Career Services Client – current client, or client who successfully completed the Career Services program within the previous twelve months
Licking or Knox County Resident
Applicants must meet one of the following criteria:
Have a high school diploma
Have a GED
Be a high school senior who will graduate in 2018
High School Education Scholarship:
Applicants must meet all of the following criteria:
Resident of Licking or Knox County and/or Relative of a Current Goodwill Employee
Current high school sophomore or junior
Will attend a trade school or career center in lieu of attending a traditional high school for your junior or senior year
Application Process
The Licking/Knox Goodwill Foundation accepts online applications.
Application and supporting documentation must be submitted electronically.
Your application must include:
Completed scholarship application form
A copy of your most recent transcript, diploma, or GED
Two completed and signed letter of support from persons other than family
Scholarships generally range from $500 – $2,500 per year
If selected to receive a scholarship, you will receive a Scholarship Acceptance Form to complete and submit. Checks will be mailed once the Scholarship Acceptance form has been received.
Funds will be paid directly to the school. The school will return any unused funds directly to Licking/Knox Goodwill Industries, Inc.
Students wishing to transfer to another institution must inform Goodwill in writing to foundation@goodwillnewark.com.
Awards are not automatically renewable; however, students may reapply each year provided they continue to meet eligibility requirements.
Give
Why Give
Gifts to the Licking/Knox Goodwill Industries, Inc. Foundation positively affect Licking and Knox county's residents, support individuals seeking additional training or education in their chosen career, strengthen initiatives to support individuals with disabilities or other barriers to employment, assist with temporary housing or essential transportation needs and much more.
Making a Donation Today
Whether you plan to give a small one-time gift or a recurring donation, your contribution helps individuals with a disability or other barrier to employment accomplish their goals.
Making an Estate Donation
You are encouraged to work with your estate planning professional or tax advisor to determine the type of gift that is right for you and your family. Tax deductions are earned when your gift is made. Additional assistance is available by contacting the Licking County Foundation at (740) 349-3863 or online at www.thelcfoundation.org.
Questions
For additional information about our Foundation or the scholarship application process:
Call: (740) 345-9861   email: foundation@goodwillnewark.com

Planning for the Future, One Person at a Time.